Free Wall Paneling Quote
Fill out the form below and we will send you a quote within a day (Monday to Friday).
Wall Paneling
We offer 4 different styles. We can supply and fit:
Get a quote today and let's schedule a callout.
We send quotes within a day (Monday-Friday).
If you're outside of Dublin tell us where and we'll give you a price for delivery.
Get a quote today and let's schedule a callout.
We send quotes within a day (Monday-Friday).
If you're outside of Dublin tell us where and we'll give you a price for delivery.
Wall Paneling Ireland
Wall paneling was historically developed to make stone buildings more comfortable to live in. They insulated a room from the outside cold. Nowadays wood paneling is used for decorative purposes. You can incorporate wood panels into an interior design achieving a sophisticated and clean look.
A wood wall panel is usually a flat and single piece of material. It is usually placed at the base of the internal wall or covering it entirely. It can vary in height, thickness and design. To create wall panels we use high quality, durable, hidrofugo (moisture resistant) MDF.
Wall paneling is a fantastic way to bring architectural shape to plain rooms as well as a cost effective way to redecorate and breathe a new lease of life into your home.
Whatever the interior design style you choose for your home or in an individual room, including wall paneling towards the lower section of the wall can really add a unique element to any space within your home.
Our material and manufacturing process allow us to achieve our pre-made designs, patterns and textures.
As the designers, manufacturers and installers of the best quality wall panels, we proudly provide for many happy customers across Ireland.
You can rest assured that the quality of our service is second to none and we have many happy testimonials on Google from clients who have used our service.
Regardless of the style that you choose, we can help you in finding the right panels for your home. Get in touch with us and we will be happy to give you a quote and put things in motion for you!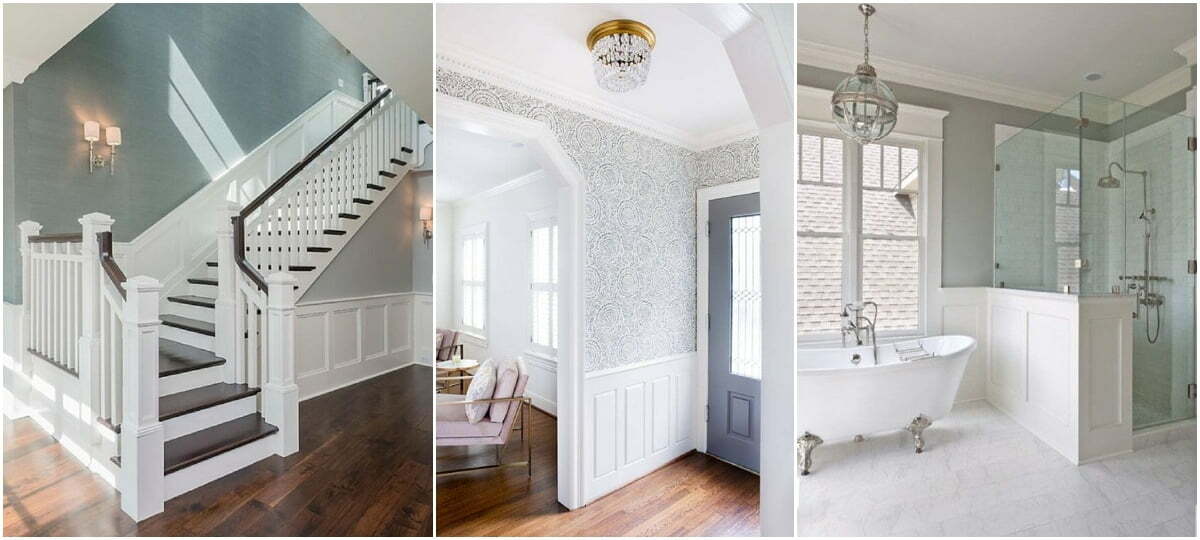 Ordering wall panels for your home couldn't be any more simple when using our company:
Simply using the form on our website to get an initial quote based on the rough measurements you provide. They don't have to be very accurate, they are just to give you an idea of cost.
We will then contact you and arrange a callout. During the callout, one of our team will come and visit your home, will show you samples of paneling and discuss all your needs, as well as take measurements of the area that needs to be paneled.
If you are happy with the final price, we will then manufacture the panels to your measurements. All our panels are primed, sanded and fully ready to paint with no further prepping needed.
Our fitters will come to your home and install the wainscoting panels.
Our wall panelling comes sanded, primed and ready for painting. This is due to the installation process which always involves additional cutting and adjustments to accommodate the walls (which are almost never precisely straight).
You can then have them painted in any colour you like, and we can optionally offer this service at an additional cost.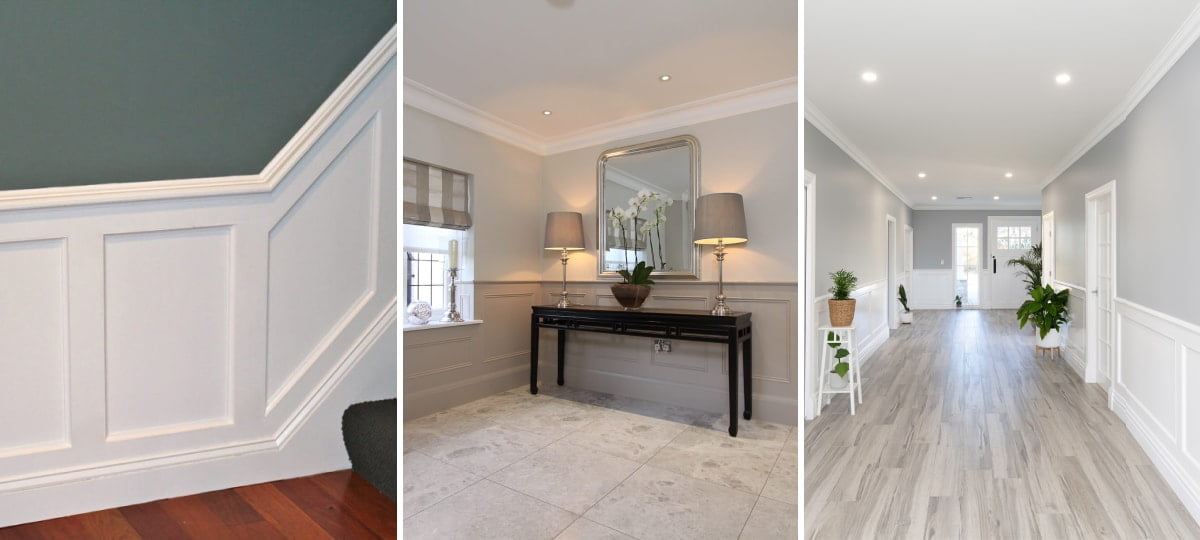 Wall Panels & Wainscoting
Wainscoting, which is another name for wall paneling, is an excellent attribute to your interior design. We offer four types of paneling to choose from. You can either cover all areas in the house or just one wall of the room.
Wainscoting is made from a highly durable material and will last for a very long time. Here's a few ways you can use wainscoting in your interior design to make a difference.
Wainscoting for Hallways
A hallway is the first room you will see when you enter a house. If you want to create an aesthetically clean impression of your hallway wainscoting will give it a luxurious and elegant look. Although wainscoting has a traditional feel it is a modern and sophisticated interior design choice. Usually the tone chosen for the panels is white allowing for flexibility when selecting the colours and textures for the rest of the wall.
Wainscoting for Staircases
Wainscoting is always a stunning addition to a staircase decor. A staircase holds a lot of character in the house through the use of high quality long lasting wood and the intricate designs detailing the balusters. Adding another layer to the staircase character - such as wainscoting - will be striking to look at. Wainscoting can be paired with artwork on the walls or a hand rail of contrasting wood.
Choose from our wall paneling styles

We supply and fit high quality wall panels for Dublin homeowners. Choose your style and get in touch with us to order your panels today.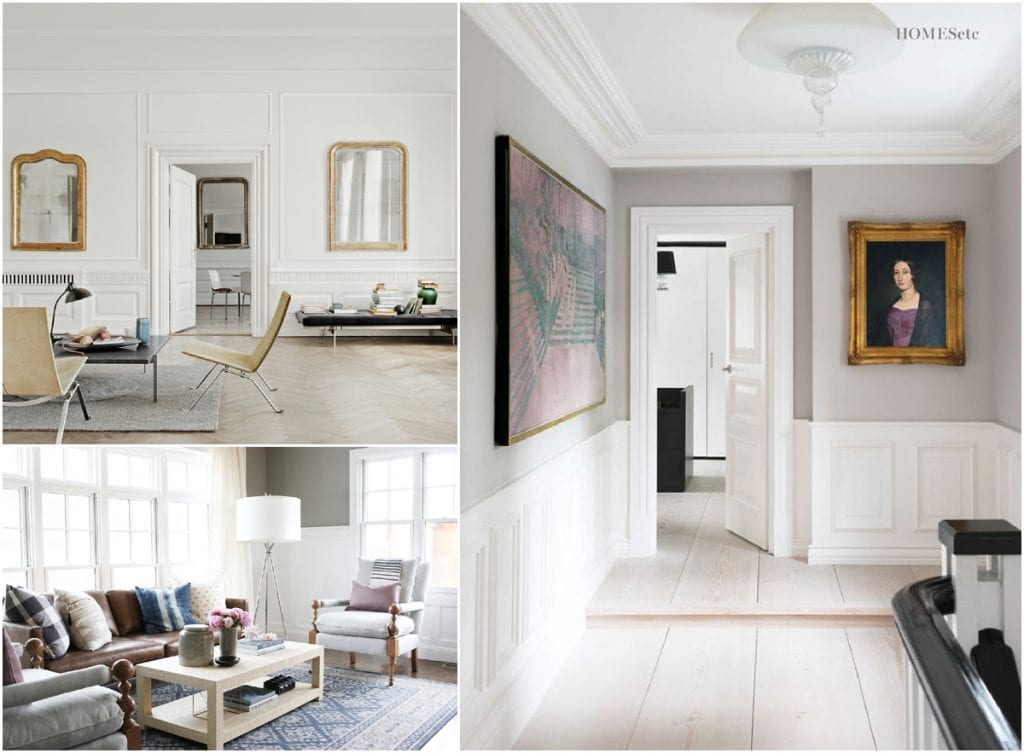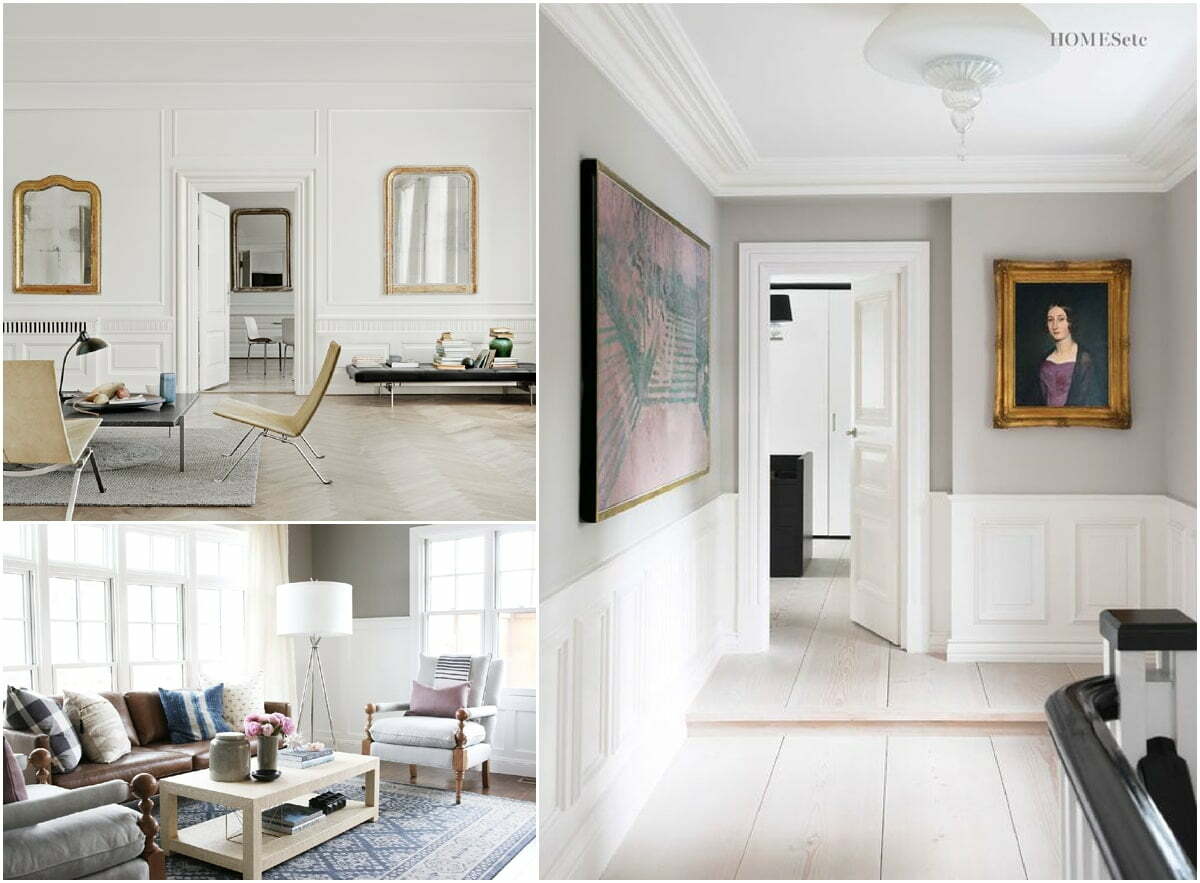 Wainscoting Living Rooms
You can expand the visual space of a living room if you cover one wall of the room with wainscoting. The design of Beadboard panels, which you can find as part of our paneling selection, will visually heighten the walls. The cottage cosiness of the panel pattern will add a country feel to the room.
Wainscoting Kids Rooms
Decorating a kids room with wainscoting is an elegant way to achieve a fresh and tidy look. You can experiment with the heights of the panels and fun patterned wallpaper or simply paint the walls and use standard height wainscoting.
Wainscoting Bathrooms
Wainscoting is a graceful and beguiling element of your bathroom decor, especially if you have a bathtub with elaborately decorated feet. You can add a plate rail to a wall panel to increase functionality, such as easy access to bathroom essentials.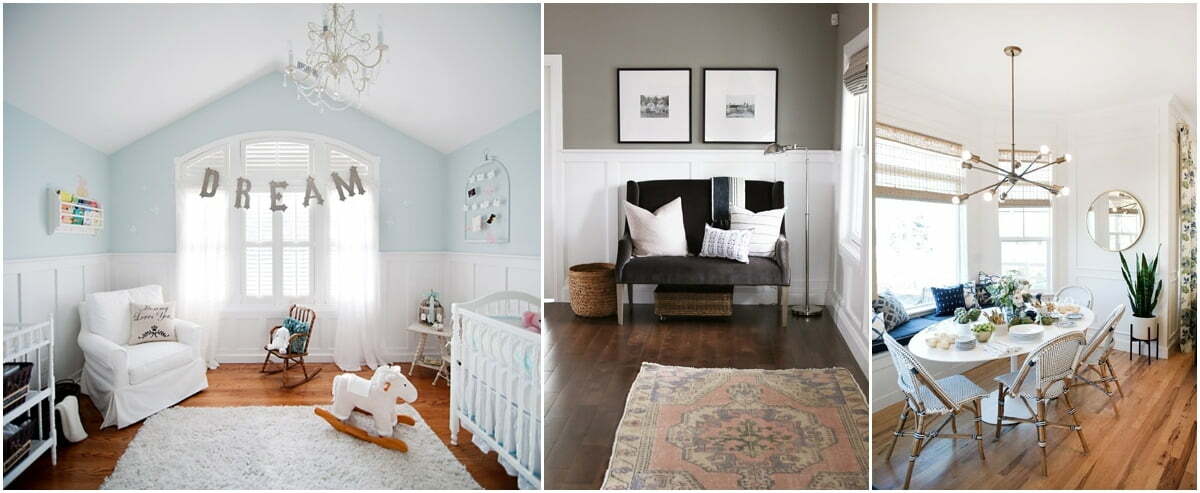 Wall Paneling Prices
These are our starting prices for supply and installation in Dublin and nearby areas.
The final price depends on your actual sizes, stairs and more — Get a Quote today.
Raised Wall Panelling
Fitted:
from €149 per metre

Supply only:
View Sheet Prices
Shaker Wall Panelling
Fitted:
from €149 per metre

Supply only:
View Sheet Prices
V Groove Wall Panelling
Fitted:
from €149 per metre

Supply only:
View Kit Prices
Tile Wall Panelling
Fitted:
from €149 per metre

Supply only:
Get a Quote
Wainscoting
If you are a homeowner, avid interior design lover or just a follower of renovation and home design accounts on social media, you will no doubt know that wall paneling is soaring in popularity. Wainscoting is a type of decorative wall paneling which is usually limited to the lower half or 3 quarters of the wall.
Once upon a time, wainscoting was used strictly for functional purposes. Before central heating existed, this wall paneling was a great way to insulate a room while also looking stylish. Despite times moving on, wainscoting has remained a timeless design feature in many homes.
Wainscoting panels can last for decades if manufactured and installed correctly. We use high quality, moisture resistant MDF to create wainscoting panels. MDF is a material made by breaking down hardwood into wood fibres. The sheets are then formed by combining the wood fibres with wax and a resin binder under high temperatures and pressure.
Do you want a sophisticated and clean look to your home? We will offer the best designs to suit your home decor. Our team of experts will advise you on the size and finishes for your wall panels. As part of our specialty we are happy to offer bunk beds for your kids bedrooms when considering an upgrade — click here for bunk beds.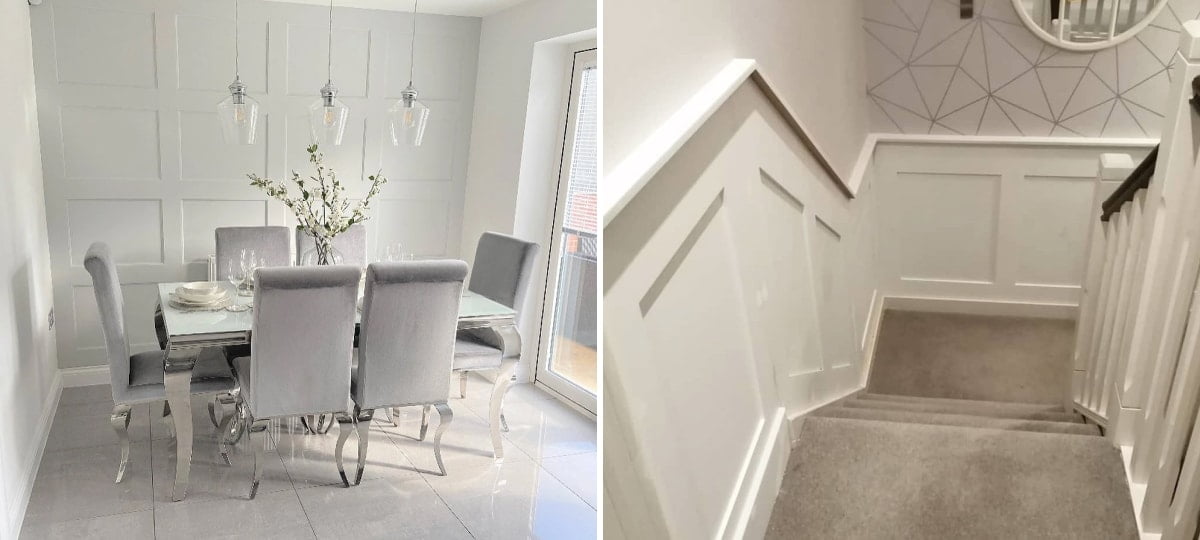 Choosing a Wainscoting Design
From kitchens to bedrooms and everything in between, if you are looking to add the wow factor into your interior design, wainscoting is definitely a feature you should consider.
There are so many great ways to pair this timeless design piece with different elements for a fresh and modern twist.
Choosing a wainscoting design can be difficult as there are so many ways to incorporate it into your chosen interior style. To help you and provide some inspiration, here are some great ideas for wall paneling into your home.
Raised Wainscoting (Traditional)
Raised wainscoting is the traditional style of wall paneling which has stood the test of time.
As well as featuring in many older homes, this refined style is making a resurgence and exudes elegance. The perfect addition to any home, this style is particularly popular in hallways and landings and helps to create a great first impression.
Finishing the raised wainscoting in a contrasting colour to the wall is a fantastic way to create an eye-striking finish in your home, but most of the time it is painted in a warm off-white colour.
Flat Wainscoting (Shaker Style)
Combining a simple flat panel with a coloured wall or wallpaper is a great way to make a statement in any room.
Proving that simplicity doesn't have to be boring, you can paint the wall in a colour of your choice and use shaker panels finished in white or a contrasting colour. This looks great in sitting rooms and dining rooms.
With this style you can also create a feature wall by going all the way to the ceiling rather than the usual 1 metre high.
Flat wainscoting is sleek and clean and can feature in any room, and you can shake up your style and choose a different shade or tone of the same colour to your painted wall for a bold and striking finish.
V Groove Wainscoting (Tongue & Groove)
If you want to give your wainscoted walls a chic quality, you might consider V groove panels.
Comprising a series of wooden planks, V groove wainscoting is visually interesting and can be combined with wallpaper or a painted wall. Often featured in bedrooms, this style of wall paneling is incredibly popular right now.
Tile Style Wainscoting (Square)
As it says in the name, tile style wainscoting is created to mimic the style of popular large style tiles featured in many kitchens and bathrooms.
The major benefit of this variant is that it is made from moisture resistant MDF and therefore a perfect and cost-efficient alternative to tiles in the kitchen, and it can be painted in any colour. Not suitable for bathrooms though, or areas with direct contact with water.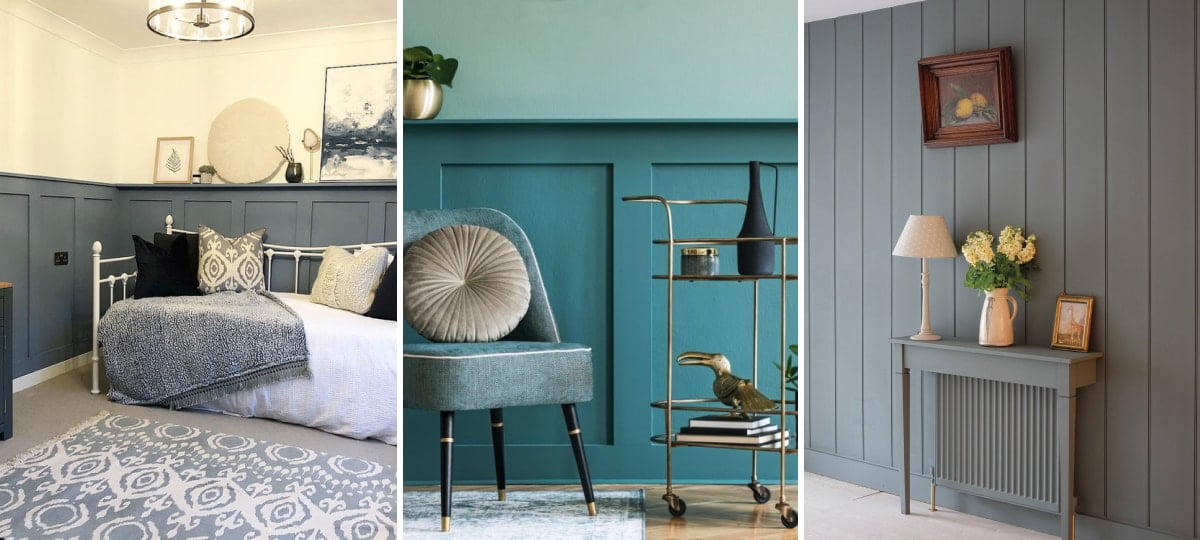 Feature Walls & Paneling Inspiration
There is so much inspiration for wall panelling and feature walls on social media. Great interior design has really become mainstream and if you are like us, you are always looking for great ways to improve your home.
Wall Paneling Inspiration
There are so many fantastic ways to incorporate wall paneling into your home. There are almost too many to mention, but we have included 3 of our favourites below to help get the creative juices flowing:
Add an accent wall in an otherwise white walled room. The accent will make a statement while also pairing perfectly with the colour palette of other fixtures and furnishings that you have.
If you are looking to add some warmth and charm into your home, why not consider a full beadboard wall. Great in the kitchen, bedroom or attic space for creating a rustic feel whether you are actually in the countryside or in the middle of the city.
Feature Walls Inspiration
Until recently, creating a feature wall using wallpaper was a top trend. The same can definitely be done with wainscoting right now for a stylish, modern look!
We have a couple of ideas to provide for feature walls inspiration:
Covering a chimney breast with panels to the top will help to create a stand out feature anywhere. You could even combine it with a matching mantlepiece.
If you are planning to include panelling in your kitchen, consider combining this with open shelving. This is a great way to add more colour to your kitchen, and you can choose a dark panelled wall with matching (or contrasting) shelves.